The mini cruise reachs the islands of the Egadi, to know the coasts bathed by an intense blue unforgettable stoping at Favignana and Levanzo.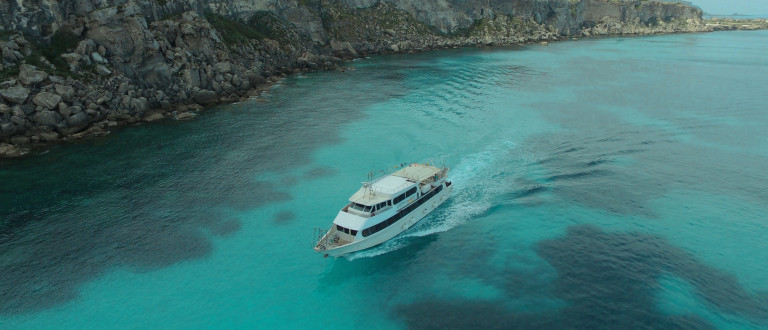 Detail minicruise by the Egadi Islands
Trapani trip to Favignana and Levanzo
9:30 am – Departure from Trapani
We will meet at the port of Trapani, in Via Admiral Staiti, spring Marinella (next to the headquarters of the Fire Department). Although the departure is scheduled for 9:30 it is appropriate and desirable to be before 9:00.
10:15 – Arrival to the island of Favignana after 40 minutes sailing with explanations of what we see.
First Stage: Favignana. (Stop 2 hours)
During stop you can visit the town's harbor, the old Tonnara Florio (now a museum), buy local products, rent a bike or take a guided tour.
12:30 hours the port of Favignana to the famous beaches of the island: Cala Rossa, Bue Marino and Cala Azzurra, with stops to take a bath if desired. Depending on the weather and currents will take place the stop at one of the coves.
pasta with pesto Trapanese, and fresh seasonal fruit: then the food is included in the price will be served. The wine will be served during lunch and water will always be available throughout the tour.
14:45 Departure for Levanzo arrival about 15:05 with 1 hour stop in Levanzo to visit the village and take pictures of the white and turquoise typical houses.
16:00 Continuation of the journey by sea to the cliffs SPECTACULAR, and if the wind and the sea have time to permit another bathroom.
17:15 Departure to Trapani
18:00 Return to Trapani – End of the tour
PRICES EXCURSION TO Egadi
40 € (adults)
Reduced: 25 € (Children 5/12 years)
Free: infants and children up to 4 years
The price must be added € 2.50 not included in the tour price for a visit to the marine protected area
There are specific products for celiac sufferers
Contact to reserve the boat trip to the Egadi: