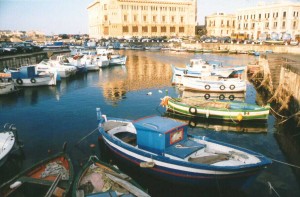 Doubtless, Syracuse is a complete city. It combines a rich history and the ability to keep its own identity, while dealing with the challenge of tourism. Syracuse has one of the richest archaeological heritage of Sicily, made of the Ortygia Island, the first area to be populated by citizens of Corinth who founded the city, and the Neapolis archaeological park. The park host the major of the ancient monuments of the city such as the roman amphitheatre, the Greek theatre, the Latomias or stone quarries, the Ear of Dionysius and the Cordari's cave, where during the Greek age the slaves mined blocks of calcareous stone used for the construction of buildings and walls.
In front of the entry of the archaeological museum of Syracuse there is one of the greatest architectonical mistake in Sicily: the Sanctuary of our Lady of Tears. It is a modern 80 meters horrible building, raised to commemorate the miraculous event whereby a plaster effigy of the Virgin Mary would have wept.
The San Giovanni's Catacombs are a complex network of underground labyrinths, made of 20.000 graves occupying an area of 10.000 square meters. Just behind the catacombs in via Teocrito there are the Papyrus Museum and the archaeological Museum Paolo Orsi. The Ortygia island is made of a mosaic of streets and squares characterized by the typical elegance of the baroque architecture, so important in the eastern Sicily. In the Dome Square there is the Santa Lucia alla Badia Church on a side, and the Cathedral on the other side. During summer this square is characterized by the outdoor tables of coffee bars that overlooks it. Near the sea you will find the Arethusa Fountain (Fonte Aretusa) flowing naturally fresh water, a pond with ducks, different types of fish and papyrus plants. The myth about the love between the nymph Arethusa and the river god Alpheus gives the place a mystic atmosphere.
Continuing the walk along the sea you will arrive on the opposite side of the Ortygia Island where you can find the Maniace Castle, a fortress built by Frederick II in 1239 to defend the island.