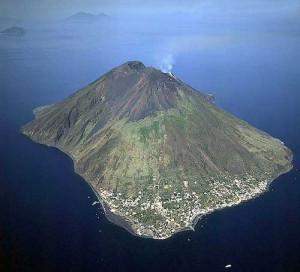 The Aeolian Archipelago, within the Messina province, is placed in front of the Milazzo coast and is composed of seven main islands: Lipari (the largest island), Alicudi, Filicudi, Panarea, Salina, Stromboli and Vulcano. Just 13.000 inhabitants live in the archipelago, composed by islands which originally were submarine volcanoes and emerged above the sea surface about 2 million years ago. Nowadays just Stromboli and Vulcano are active volcanoes.
In addiction of tourism, which is the main activity in the archipelago, the vineyards were an important economic resource, until an outbreak of phylloxera decimated the wine plantations considerably, causing massive migration to Sicily and a consequent depopulation of the islands.
The Aeolian Islands are the image of the rest: the crystalline water and mud baths were the settings of Stromboli, the film by Roberto Rossellini with participation of Ingrid Bergman, and Vulcano, the film with Anna Magnani. This allowed all the Italians to know the islands places. This helped the tourism promotion and ensured that the UNESCO declared the archipelago humanity heritage.
You can reach the Aeolian Islands both from Italy (peninsula) and from Sicily: many ferry boats depart from Naples, Reggio Calabria, Messina and Milazzo and in summer even more frequently from Palermo and Cefalù. In order to move among the islands there are ship and hydrofoil (ship are more frequent and cheaper). You can also use private boats, that offer a kind of taxi service, or you can rent a small ship's boat for 4-6 people. You can also rent a sailing boat with skipper, where it is also possible sleeping during the night.
The touristic offer of Aeolian Islands is not particularly rich, although tourism is the main and almost exclusive source of wealth, along with fishing. The main attractions for tourists are the Stromboli volcanic activity, the trendy coffee bars in Lipari, the boat trips around Panarea, the Volcano sulphurous mud and the stacks of Filicudi.